About O.A.K. Services in Aiken, SC.
Certified, Qualified and Accredited.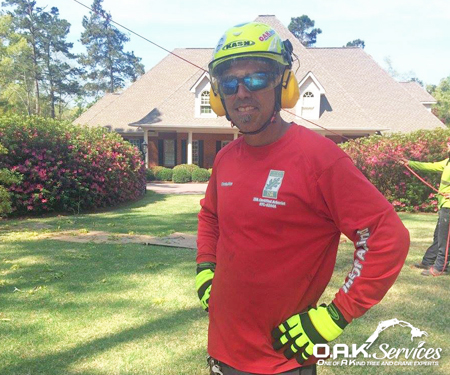 Our company is owned by Charles Rice who is a 23-year veteran of the Green Industry. He's also an 11-year accredited International Certified Arborist through the International Society of Arboriculture.
Offering Hi-Tech and Professional Tree and Crane Services while specializing in 24-hour Emergency & Disaster Response Services.
With our specialized equipment, we serve the entire Eastern U.S. and are centrally located in CSRA (Central Savannah River Area of Georgia & South Carolina).
Why Choose Us?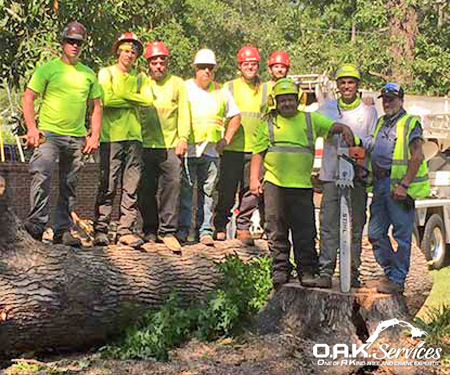 Here at O.A.K. Services, we excel as leaders in the tree care industry. We do this through our commitment to safety, professionalism, and consistent focus on customer satisfaction. It's also our dedication to our employees and their continued education along with utilizing the latest high-tech equipment in our field.
This allows us to provide the safest, most efficient, affordable, and environmentally conscious services available in today's market. We are truly a One Of A Kind (O.A.K.) Tree Service company.
We are proud to be a fully accredited TCIA company which puts us at the top 2 percentile of all tree companies within our nation since 2016. We have also been members of the Tree Care Industry Association since 2005.
MEET OUR MASCOT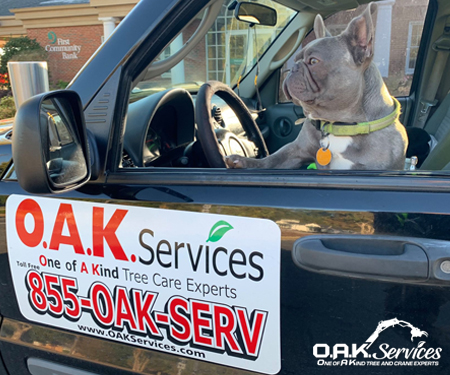 Introducing Woody. While he may be young, he has already become a valued member of our tree service team. Woody is a Blue French Bulldog who enjoys spreading joy, giving puppy kisses, and maintaining overall goodwill both on and off the job.
CODE OF ETHICS
Our employees and Arborists are responsible for following our industry's strict code of ethics to advocate the highest standards and practices in Arboriculture services to date. Handed down by the Tree Care Industry Association and International Society of Arboriculture, our employees follow the following code of ethics:
TCIA Code of Ethics
Arborists are responsible to provide professional care of trees for current and future generations. As an O.A.K. Services employee, I pledge to advocate the highest standards and practices of Arboriculture. I pledge to conduct myself in an honest and dignified manner, reflecting our adherence to the laws that govern us locally, nationally, and internationally. I accept that the Arboriculture profession is extremely high profile in public perception. I pledge to look and act professionally at all times in order to reflect a positive image for the tree industry and O.A.K. Services.
I agree that safety, training, and education are of the utmost importance in maintaining a professional workplace. I pledge to improve the work environment by participating in employee development training events that reflect the most current research and practices available to the industry.
I pledge to respect the views, ideas, and contributions of my peers. I pledge to participate in open and honest communication, sharing of ideas and experiences, and foster goodwill within the entire community.
ISA Code of Ethics
Strive for continuous self-development by increasing their qualifications and technical proficiency by staying abreast of technological and scientific developments affecting the profession. Not misuse or omit material facts in promoting technical information, products or services if the effect would be to mislead or misrepresent. Hold paramount the safety and health of all people and endeavor to protect property and the environment in the performance of professional responsibilities.
Subscribe to fair and honest business practices in dealing with clients, suppliers, employees, and other professionals. Support the improvement of professional services and products through encouraging research and development. Observe the standards and promote adherence to the ethics embodied in this Code.
O.A.K. Services is a Tree Service in Aiken, SC serving customers in Aiken, Pinecrest, North Augusta, Warrenville, Graniteville, Gloverville, Burnettown, Belvedere, Langley, and Clearwater, SC.