Certified, Qualified and Accredited.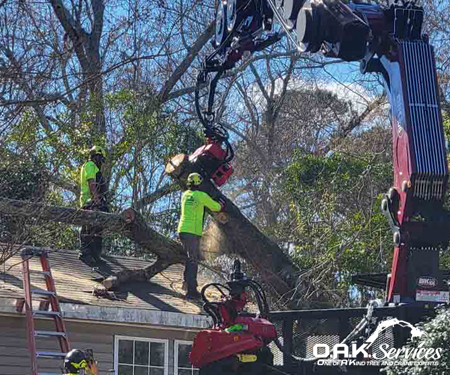 Do you need Emergency Tree Service right now? O.A.K. Services provides 24-hour tree removal and cleanup services at the best prices.
Got trees, limbs, and debris down from the storm last night? We're available around the clock to clean it all up!
Call (803) 443-4080 for a free quote.

Disaster can strike with little warning. When a tree falls and damages the property, trust the company with years of experience in emergency tree removal.
We're more than just chainsaws, crane lifts, and big trucks. Our Certified Arborist is on the scene to ensure the best care and safety is being executed properly.
24/7 Emergency Tree Service in Aiken and N. Augusta, SC
In this part of South Carolina, predictable weather is uncommon. Strong winds from an afternoon thunderstorm or remnants from the latest hurricane or tropical storm wreak havoc.
Day or night, rain or shine, we're standing by to cut, trim and remove fallen trees and limbs from your property. From the very moment it's safe enough for us to drive to your home or business, we'll be there.
Every situation is different. Even so, the majority of the emergency tree services that we perform include:
Cut up down trees and limbs
Crane-lift large trees from homes and buildings
Clear driveways and roads of fallen trees
Tree debris cleanup and haul off
Regardless of the situation at your property, we have the skills, equipment, and certified expertise to make quick work of it.
Hurricane & Tornado Damage Tree Cleanup
Some of the worst tree damage we see comes from hurricanes and tornadoes. Is it just us, or do these natural disasters seem much more frequent lately? Nonetheless, the destruction always involves trees.
Our first response is to make the area safe. This involves removing heavy trees and limbs from homes and businesses. Working with the power company to get the debris removed from the power lines is something we're very experienced with too.
Additionally, our staff helps take the guesswork out of filing insurance claims and working with an adjuster. Our mission is to help restore your property to the safe and beautiful space it was prior to the storms.
We provide 24 hour emergency tree service in Aiken, Pinecrest, North Augusta, Warrenville, Graniteville, Gloverville, Burnettown, Belvedere, Langley, and Clearwater, SC.