Certified, Qualified and Accredited.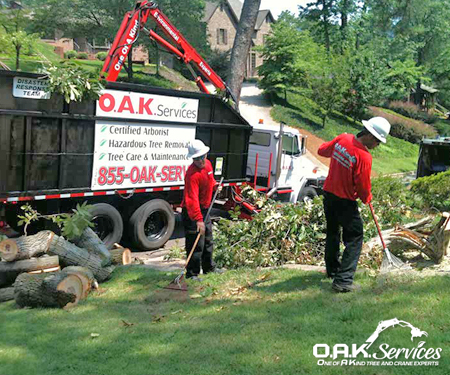 The disaster relief services we provide help get you back to normal as soon as possible. We have all of the professional tree equipment needed to restore your property quickly and safely.
When tornadoes, hurricanes, or tropical storms create a horrific scene at your property, we bring the calm and the cleanup fast!
Call 1-855-OAK-SERV (625-7378) or
(803) 443-4080 for immediate service.

We're licensed, bonded, and insured and we have all the required permits from your state to legally help you in your time of need.
At O.A.K. Services (One of A Kind Tree and Crane Experts) we strive to help everyone in the communities around us.
Disaster Relief Tree Cleanup Aiken, SC
You've probably seen the pictures or even experienced it firsthand, the destruction left behind after a severe weather events like tornadoes, hurricanes, and tropical storms. The aftermath leaves your home, business, or property littered with fallen trees, limbs, and branches.
Getting a professional tree service out to begin the cleanup is essential. Tree damage that penetrates roofing or siding quickly leads to expensive water damage. That's why we offer 24-hour emergency service.
No matter the time or day, we bring out our entire team and equipment the moment it's safe enough to travel to you. Our Certified Arborist will be on the scene as well, making sure the salvageable trees stay intact.
Once we cut up and load the big trunks and branches to haul away, we gather up the branches and leaves. The end result is a clean and safe yard that's free from hazardous debris.
Tree Cranes, Grapples & Equipment
It takes a lot more than a chainsaw and rakes to cleanup after a tornado or other natural disaster. O.A.K. Services has all of the heavy equipment necessary to completely remove all of the tree debris left behind. This includes telescoping boom cranes, grapples, skid-steers, chipper shredders, stump grinders, dump trucks, and more.
We provide disaster relief tree cleanup services in Aiken, Pinecrest, North Augusta, Warrenville, Graniteville, Gloverville, Burnettown, Belvedere, Langley, and Clearwater, SC.