Certified, Qualified and Accredited.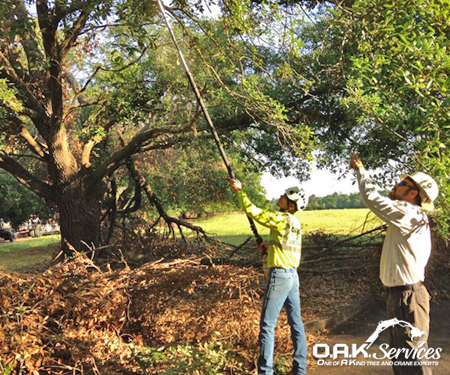 Tree trimming & pruning services keep your trees healthy and looking good too. Even so, it's always best to let a certified Arborist do the work.
Hire a professional Arborist in Aiken & North Augusta, SC to trim and prune your trees. It's more affordable than you think!
Call (803) 443-4080 for a free quote.
Overgrown trees are unsightly and unhealthy trees. If you have trees in your yard, you need routine tree trimming services to keep them growing properly.
O.A.K. Services has a professional Arborist to prune your trees in Aiken, SC or beyond. We follow ISA A300 tree pruning standards for every service, which will keep your trees healthy and beautiful year-round.
What do our tree pruning services include?
Hiring O.A.K. Services for your tree pruning services makes the process easy. You can depend on our team to handle all of your tree maintenance.
We care for your trees by:
Removing deadwood
Elevating tree crowns
Trimming overgrown branches
Pruning sucker-branches
Leaf and branch cleanup
Tree trimming & pruning services are important for every property, whether you want to keep your trees healthy or maintain a beautiful view.
When we're through with the job, we cleanup all of the leaves, twigs, and tree debris we create. In fact, the only evidence left behind are perfectly manicured trees.
Tree Trimming and Pruning Cost
In June of 2023, the average cost to have a tree trimmed ranges between $200 to $600. Depending on the size of the tree, the amount of pruning needed, and the type of equipment needed.
In most cases, having this type of maintenance performed is usually very affordable. Price breaks may even be possible on two or more trees that need trimming or pruning.
Regardless of the cost, it's much less expensive than the damage a falling dead branch can cause. It's always best to play it safe and get the preventative tree maintenance done before something happens.
We specialize in tree trimming & pruning in Aiken, Pinecrest, North Augusta, Warrenville, Graniteville, Gloverville, Burnettown, Belvedere, Langley, and Clearwater, SC.