Certified, Qualified and Accredited.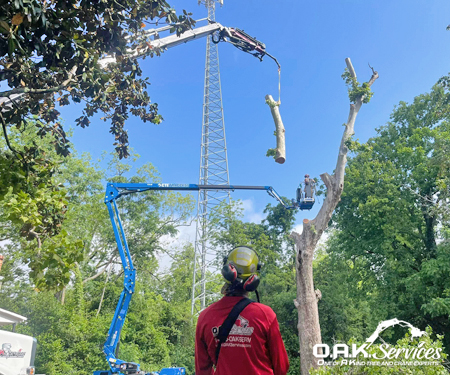 Tree removal in Aiken, SC is best left to the reputable and certified tree service providers. We are all of that and so much more.
Looking for a professional and affordable tree service to remove a standing or fallen tree? Don't take chances! We'll get it down and hauled away carefully.
Call (803) 443-4080 for a free quote.
O.A.K. Services specializes in removing, dead, diseased, and storm-damaged trees safely and quickly.
We have decades of tree industry experience and have all of the proper equipment needed to get the job done efficiently.
When you need one or many trees removed from around your home or business, you'll be so glad that you hired us to do it.
Tree Removal Service in Aiken, SC
Our tree service is centrally located right here in Aiken. Because we're local, we have two advantages over any other Arborist. First, we know the trees and the homes and businesses here. Second, we're located closer to you when you need us fast. This is so important after a storm blows through and you need emergency tree service.
When it comes to large trees or those located in close proximity to buildings, we usually do the following:
Bring a high-lift crane to the job site.
Attach a grapple to grip the tree for safer removal.
Remove the tree and haul away the logs, branches & debris.
Clean up any leaves or cuttings from the entire area.
Grind down and remove the stump, if desired.
During your tree removal services, we will take every precaution to protect your property and the surrounding area. You can depend on us to haul away leftover foliage, branches, and debris from the job site.
O.A.K. Services is prepared for anything. We use heavy-duty equipment, including cranes, to remove trees of all sizes. This is a much safer method than simply climbing the tree to cut it down.
Tree Removal Cost in AIken
Now that you've found a reputable company to remove your tree, how much will it cost? As of June 2023, the average cost for tree removal ranges between $350 to $1500, with a median price of $710. The price you pay for having a tree removed is determined by a few factors. These include the size of the tree, the location of the tree, the type of equipment needed to safely remove it, and more. In almost every case, it's affordable.
Having said all of this, the peace of mind you get knowing that a diseased, damaged, or rotten tree isn't going to destroy your property or harm your family is priceless. Either way, procrastination only does harm. Let us show you how cost-affordable removing a dangerous tree is.
We offer tree removal services in Aiken, Pinecrest, North Augusta, Warrenville, Graniteville, Gloverville, Burnettown, Belvedere, Langley, and Clearwater, SC.