Certified, Qualified and Accredited.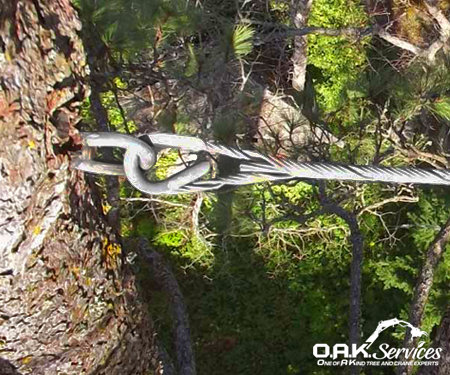 Tree cabling and bracing is necessary to support and fortify trees in danger of failing structurally. Only a Certified Arborist determines when and how this delicate tree service is utilized.
Severe weather, soft ground and over extended limbs can weaken the most stout trees. Let Aiken's top Arborist inspect and bolster your trees with cables or bracing today! Call (803) 443-4080 for a free quote.
If your tree loses its structural integrity due to pests, disease or weather, reinforcing it with steel cabling or other bracing helps support the tree. Procrastination usually leads to limb or trunk failure and tree removal becomes necessary.
Regardless of the type or size of your tree, O.A.K. Services has the skills and experience to keep it strong, healthy and safe.
Tree Cabling & Bracing Service in Aiken, SC
When you see splitting limbs or heavy, over-reaching tree limbs, chances are you need the services of certified tree specialist, known as an Arborist. That's us. Only a trained professional of the tree care industry makes the determination of how to use cables or braces to support a tree.
We've been providing tree support services in Aiken for nearly 2 decades now. Sometimes we see this issue when we're out trimming trees. While it's true that not all trees are a good candidate for these types of tree preserving measures, some definitely are. So, how is it performed?
First, our Arborist will completely inspect the tree, looking at strongest areas and the weakest ones needing attention and make an assessment. Next, a hole will be carefully bored into both the weak limb and to the adjacent strong limb or trunk. Then a heavy steel cable is run through both sections. Finally, the tree care professional will ensure just the right amount of tension is used to adequately support the weaker limb.
Top 3 Signs You Need Tree Cabling
Determining whether your tree might need tree cabling service to help it stay strong isn't too difficult. Here are the top 3 signs to look for:
Over-reaching Heavy Tree Limbs.
V-Crotch Tree Stems.
Splitting Tree Limbs.
If you see any of the three warning signs listed above, you should call us for a free tree inspection. The good news is that you still have some time to address the problem and save your tree. Being proactive is always best.
We offer tree cabling & bracing services in Aiken, Pinecrest, North Augusta, Warrenville, Graniteville, Gloverville, Burnettown, Belvedere, Langley, and Clearwater, SC.