Certified, Qualified and Accredited.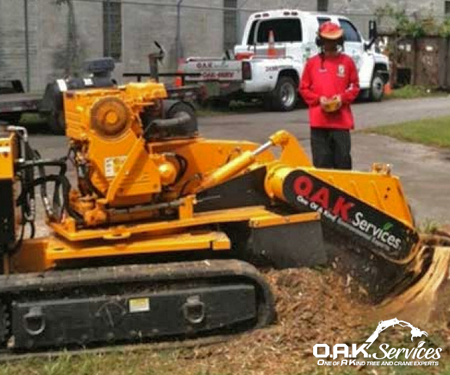 Do you need stump grinding service in Aiken, SC or the surrounding area? O.A.K. Services offers professional and affordable stump removal.
After a tree has been cut down and removed, taking out the stump left behind is the best choice. Aesthetically, it's unsightly but it also poses hazards to humans and mowers.
Our professional stump removal equipment quickly and effectively shreds the tree wood down below the surface of the soil.
No poisonous chemicals or other harmful chemicals needed to eliminate any evidence of the old tree. Let us show you how affordable removing stumps really is.
Stump Removal Service in Aiken, SC
If a tree falls or gets cut down on your property, you're left with an unsightly stump. The leftover tree trunk bottom is dangerous for you and your lawn equipment, so it's important to remove it ASAP.
As a local stump grinding service in Aiken, we have nearly 2 decades of experience. Our tree care professionals use the proper equipment to grind down and remove the old stump. The end result gives you a hazard-free lawn that's beautiful to look at once again.
Because we're located right here in town, getting to you is quick and easy. Even better, our Certified Arborist will be sure that no other tree roots get damaged during the process. Hire some guy with a stump-grinder to do the job and you're really taking a big chance on doing big damage to surrounding trees.
Get real peace of mind knowing that your stumps were removed properly and at a great price too.
Stump Grinding Cost in Aiken
So, just how much money does it cost to have your stumps ground down? In 2023, the average cost for stump grinding is between $125 to $330. Some of the factors that go into determining the price you'll pay include, stump size, surrounding hazards and labor.
All in all, stump removal is reasonably affordable and almost always a good decision to make. In fact, our price quotes leave most of our customers pleasantly surprised.
We provide stump grinding services in Aiken, Pinecrest, North Augusta, Warrenville, Graniteville, Gloverville, Burnettown, Belvedere, Langley, and Clearwater, SC.