Hurricane Idalia Tree Damage Cleanup.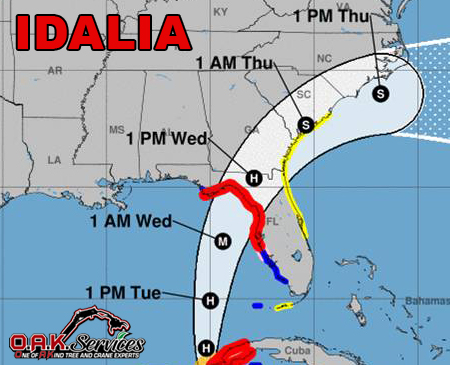 Do you need Hurricane Idalia Tree damage cleanup at your home or business? O.A.K. Tree Services provides emergency tree services 24 hours a day! Be certain that you keep informed of the newest path for Tropical Storm Idalia.
Get Professionas and Reputable Emergency Tree Damage Cleanup 24HR's A Day!
Serving SC, NC, GA, FL.
Call 1-855-OAK-SERV (625-7378) Right Now.

As soon as it's safe to travel, we can trim, cut, remove, and clean up fallen trees and limbs. Clearing roads, driveways, parking lots, and properties to make them safe again is our top priority. When it comes to hurricane and tropical storm damage, nobody is faster or more thorough than we are.
Hurricane Idalia Tree Removal Service in South Carolina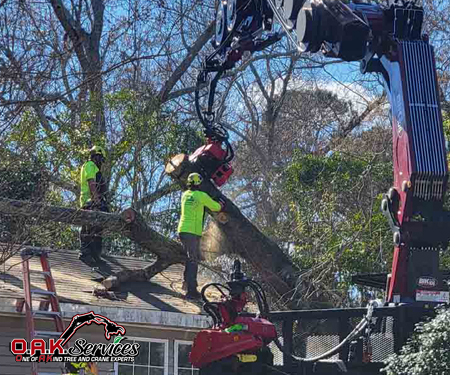 With more than 50 5-star reviews, we're the local and reputable tree damage cleanup professionals to get the job done safely and quickly. Tropical Storm Idalia is rapidly becoming a hurricane and is currently tracking to impact Florida, Georgia, South Carolina, and North Carolina. It has the potential to deliver significant damage to the trees on your property.
Once the storm has passed, we'll be rolling into your area with all of the professional equipment needed to begin the cleanup process. Our cranes, dump trucks, buck trucks, loaders, skid steers, chain saws, stump grinders, and professionally trained and certified Arborists will be coming with us.
If the storm damage to your roof is severe, we are more than ready to assist you, with or without insurance. Whether you have a single downed tree or have many, you can count on O.A.K. (One of A Kind) Tree Services to get you back to normal.
24 Hour Emergency Tree Cleanup Hurricane Idalia
Once the high winds and heavy rains are passed, the need for an emergency tree damage cleanup caused by Hurricane Idalia will be needed. O.A.K. Tree Services, based in Aiken, SC is standing at the ready, 24 hours a day to help. Whether you need us at 3 a.m. or 4:30 in the afternoon, you can count on us to get to you quickly.
No price gouging here! We don't charge more for the emergency tree damage cleanup services we provide for homeowners affected by Hurricane Idalia or any other named storm.
We offer Hurricane Idalia tree damage cleanup in South Carolina, North Carolina, Georgia, and North Florida.